Grow Your Own Magazine Subscription
Subscribe now and save up to 50%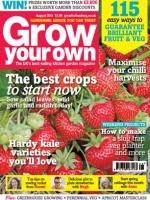 From £14.99 to £59.88
From 2 stores
Grow Your Own Magazine
The UK's best selling kitchen garden magazine, Grow Your Own features the gardening advice you can trust. If you own a vegetable garden or take pride in an allotment, this is the magazine for you. Every issue features great advice on how to grow your own fruit and vegetables, with hints and tips from industry experts like Alan Titchmarsh and Alys Fowler. Grown Your Own Magazine has something for everyone with over 100 full colour pages of detailed guides, reviews, advice and in-depth articles.
Order a Grow Your Own subscription and you will receive regular free seeds throughout the year, free delivery to your door each month before the magazine is available in the stores, and clear practical advice and fresh ideas in every issue.
In Recent Issues of Grow Your Own
The best crops to start now: sow salad leaves, wild garlic and radish today… Maximise your chilli harvests… 115 easy ways to guarantee brilliant fruit & veg… Hardy kale varieties you'll love… How to make a slug trap, veg planter and more… Easy projects for Autumn: start asparagus, sow broad beans and overwinter chillies… Masterclass: grow your best apples ever – choose the right tree, plant with confidence and beat pests and diseases… Clever pickings: simple ways to make your fruit and veg go further… How to give your plot an organic super-boost… A beginnner's guide to green manures… Smart ideas: Make a natural birdhouse… The magic of walled kitchen gardens… Order your Grow Your Own subscription today for more great articles like this every month.
Who Reads Grow Your Own Magazine?
Grow Your Own is perfect for anyone who produces fruit and vegetables in their garden or allotment.