Easy Cook Magazine Subscription
Subscribe now and save up to 57%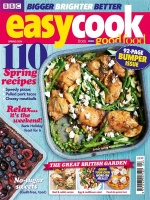 From £14.99 to £14.99
From 1 store
Easy Cook Magazine
BBC Easy Cook is the magazine that shows busy people how to cook healthy, tasty food. In every issue, Easy Cook shows readers that cooking from scratch using fresh ingredients without spending hours in the kitchen is simple and fun. The magazine uses clear, straight-forward, easy-to-follow instructions in all recipes, of which there are at least 80 in every issue. These include everything from speedy weeknight suppers and food for the kids to meals to make at the weekend, plus bakes, puddings and simple snacks.
Each issue of EasyCook is divided into two main sections, Everyday Food and Weekend Food, both full of ideas and inspiration. A special Ready Steady Cook section gives you recipes and news from the TV show and exclusive interviews with the chefs. Don't miss a copy, order your Easy Cook subscription today and get free delivery to your door.
In Recent Issues of BBC Easy Cook
Try our clever pitta pizzas… Meal dilemmas: a month of speedy recipes and great value ideas… Recipes from your favourite TV cooks… Get out of a rut: store cupboard solutions for family mealtimes… Cook our foolproof chicken dish… Mary Berry's three course menu for friends… Lunch in the garden: 10 great summer salad dressings… Cook our delicious three-layer lasagne… Fresh BBQ and picnic ideas, showstopper puds and step-by-step paella… Learn to cook mussels… Easiest ever bread. Order your Easy Cook magazine subscription today for plenty of delicious recipes and cooking tips in every issue.
Who Reads Easy Cook Magazine?
Health conscious mums with strong ethical beliefs.