House Beautiful Magazine Subscription
Subscribe now and save up to 77%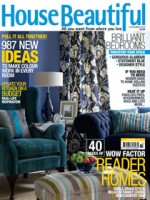 From £6.00 to £35.99
From 3 stores
House Beautiful Magazine
Your number one publication for classic decorating looks, House Beautiful Magazine is packed full of brilliant inspiration and easy style ideas for every home. See how other people like you live and style their homes. House Beautiful also provides advice on issues including planning regulations and eco-friendly living.
Along with the great regular home articles you expect, recent issues have included features on thrifty chic, spring storage solutions, home and garden energy saving ideas and some fantastic ways to give your house a stunning makeover.
For classic decorating styles, regular comprehensive colour-scheme pages and a huge range of shopping suggestions to make a difference, order your House Beautiful subscription now. As a special bonus, all subscribers will receive 10% discount in the fantastic House Beautiful shop. So don't miss out – subscribe today and take advantage of this great low price subscription offer, saving you a massive 50% off the cover price and ensuring you will never miss another issue!
In Recent Issues of House Beautiful Magazine
Fabulous ideas to warm up your home… Mix raspberry red with graphic prints for chic country style… 51 pages of stunning reader homes… The ultimate bedroom storage guide… Decorate with confidence – add wow to room schemes with clever colour blocking… From kit house to dream home in 8 days… 50 fabulous fabrics and wallpapers… The complete guide to flooring – luxe, eco, value and carpet too… Stylish space savers for every room… The new shabby chic – squashy sofas, painted furniture and a dash of poppy red… 1089 ways to use colour in your home… Enjoy summer inside and out – best patio sets and garden furniture. Delicious seasonal recipes and sizzling barbecues… Top 10 kitchen gadgets… Make stylish cushions to revamp your furniture… Transform your windows – fresh solutions for curtains, shutters and blinds… Get more like this plus great room makeovers every month with your House Beautiful subscription. Order your copies of the magazine today!