How It Works Magazine Subscription
Subscribe now and save up to 37%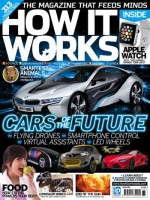 From £10.25 to £42.00
From 3 stores
How It Works Magazine
The magazine that feeds minds, How It Works is the most exciting science & technology magazine in the world today. It explains everything you never knew you wanted to know about the world we live in and will answer hundreds of fascinating questions every issue like how do sharks hunt? What's a black hole? What's inside a nuclear submarine? How was the London Underground built? How do iPhones work?
With expert explanations, dynamic cutaways and breathtaking photography, How It Works Magazine stands out from stuffy academic titles and inspires readers of all ages to explore the wonders of science, space, technology, history, transport and the environment. Make sure you never miss a copy, order your How It Works subscription today.
In Recent Issues of How It Works
Smartest animals: measuring animal intelligence… Cars of the future: flying drones, smartphone control, virtual assistants and LED wheels… Apple Watch – will this gadget change your life?.. Food: How eating powers your body… Your amazing brain – discover the secrets of the body's most complex organ… World's fastest trains – travel at 300mph on board the Maglev… Life in space: astronauts answer your questions… Giraffes – why do they have such long necks?.. 20 home science experiments you can try. Order your How It Works Magazine subscription today for more expert answers to your burning questions every month.
Who Reads How It Works Magazine?
Modern parents, caring grandparents and inquisitive young minds.