New Scientist Magazine Subscription
Subscribe now and save up to 32%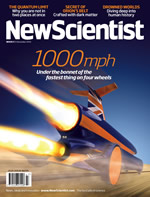 From £99.99 to £314.00
From 2 stores
New Scientist Magazine
New Scientist is essential reading for anyone who's passionate about exploration and discovery. Every issue of New Scientist Magazine is filled with the latest scientific and technological breakthroughs, news, innovation and ideas in the constantly changing world of science.
Every aspect of the scientific world is covered from quantum physics to human biology, health, life and the environment. New scientist is always at the cutting edge with the latest technological developments and science news from around the world. Don't miss out – subscribe today!
In Recent Issues of New Scientist Magazine
Speeding neutrinos – what those faster than light measurements really mean… Making your mind up – the subtle forces that sway your choices… Soft, strange and smart – the remarkable rise of morphological intelligence… The moon factor – why the universe has got friendlier to life… Mao's greatest drug – his secret mission to cure a major killer… Intimate secrets – how to get people to reveal all… Unscientific America – a dangerous retreat from reason… Quantum life – biology's entangled foundations… Earth shock – expect more eruptions, quakes and landslides… Impossible inventions – everyday technologies they said would never work… Mathematics of the world's favourite food… The thinking body – there's more to your mind than your brain. For great features like this and more every week, order your New Scientist subscription and have the magazine delivered to your door before it hits the shops.