Science Focus Magazine Subscription
Subscribe now and save up to 80%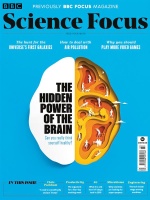 From £5.00 to £55.00
From 3 stores
Science Focus Magazine
An award winning, jargon free science and technology magazine, BBC Science Focus Magazine (previously known as BBC Focus Magazine) offers cutting edge articles that are accessible to the widest audience possible. It covers everything from archaeology and the natural world, to gadgets and genetics.
Discover the latest technology with Focus Magazine's in depth reviews and learn about the scientific breakthroughs that have the potential to change your life. Focus Magazine provides the answers to all of your questions.
The magazine will bring science to life, explaining the theory behind scientific phenomena, and coupling that with some of the world's best photography. Every issue of Focus contains special reports, eye-opening photography, monthly news and developments, questions and answers, and a guide to the latest consumer products and technology.
You don't need a Ph.D to understand it – order your Focus Magazine subscription today and start to enjoy learning about science, technology and the world around you.
In Recent Issues of BBC Science Focus Magazine
The day that will change Earth – Focus Magazine reveals the event that will transform our lives forever… Synthetic life – why playing God can be useful… Inside a nuclear sub – behind the scenes access to HMS Astute… 3DTV – buy now or wait? Can 3D TV live up to the hype?… Don't believe your eyes – your brain is a master of deception. Find out how its tricks help you survive… Does the Sun make a noise?… Why we all get lost… Bugs to fight the new superbug… Budget Blu-Ray… Why we're all hooked – the truth about 21st century addictions, and how we can beat them… Dragon's Den – Duncan Bannatyne's secrets to making millions… Can you think yourself younger?… Order a Focus Magazine subscription today for great articles like these every month!
Who Reads Science Focus Magazine?
BBC Focus Magazine is read by anyone interested in science and technology and discovering more about our world and the future.