In The Moment Magazine Subscription
Subscribe now and save up to 83%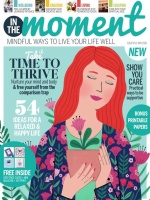 From £5.00 to £64.50
From 3 stores
In The Moment Magazine
A new monthly magazine dedicated to mindfulness, In The Moment is packed full of positive features and stories to inspire, helping you make the most of your friends, family, self, work, rest and play. It covers the latest creative trends with craft projects, plus health and fitness tips and a wide range of mindful activity ideas, including gardening, walking and travel.
With a lighthearted approach, In The Moment Magazine encourages readers to take time for themselves and being in the moment. Every issues also includes an 8-page mini magazine, including a soothing drink recipe, short story and puzzle. Slow down, take a few minutes and start by ordering your In The Moment subscription today.
In Recent Issues of In The Moment
Take Time To Thrive: Nurture your mind and body and free yourself from the comparison trap… 54 ideas for a relaxed and happy life… Show you care – practical ways to be supportive… Make time for yourself: everyday ways to help you feel calm and cared for… 53 inspiring ideas for life, love and happiness… Embrace Wabi-Sabi – let's celebrate the imperfect… How to stay in touch: Feelgood ways to connect, say thanks and have fun… 43 home style tips and life lessons for you… My still space – create a calm retreat at home… Order your In The Moment subscription today for more thoughful articles like this every month.
Who Reads In The Moment Magazine?
In The Moment is dedicated to helping women make the most of everyday mindfulness, creativity and wellbeing, embracing every aspect of your life with positivity.