LandScape Magazine Subscription
Subscribe now and save up to 15%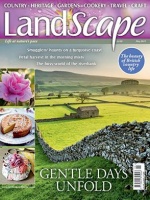 From £46.00 to £51.00
From 3 stores
LandScape Magazine
Celebrating life at nature's pace, LandScape Magazine captures the best of every season with inspiring garden ideas, seasonal home cooking, British crafts, history and heritage and fantastic British holiday locations. LandScape echoes the wonder of our native wildlife and reflects the natural charm of the British countryside.
With in-depth, informative and intelligently written features and stunning photography, Landscape Magazine sets itself apart from other titles. It has the fastest growing subscriber base of all Bauer's titles. Join the magazines dedicated audience and start your subscription today.
In Recent Issues of Landscape
Frost and follies in North Yorkshire… A potter inspired by the past… Secret valleys, ancient snowdrops – a sheltered Somerset valley glimmers with a carpet of snowdrops that have thrived here for centuries… Winter rose – Hellebores unfurl their bright petals to create a welcome splash of early colour… Oysters of the earth – with a mild taste of shellfish, the slender roots of salsify bring a subtle yet distinctive flavour to dishes… Journey through Malvern's golden hills… Lazy days on a horse-drawn barge… Hearty soups to warm and nourish… Order your Landscape magazine subscription today for more great features in every issue.
Who Reads LandScape Magazine?
Landscape's main reader base are women with an average age of 50 and plenty of time to spend on their hobbies and interests, whether gardening, travel, craft, cookery or exploring the outdoors.