Mountain Biking UK Magazine Subscription
Subscribe now and save up to 82%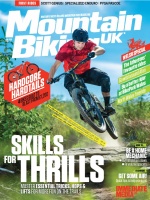 From £5.00 to £49.50
From 3 stores
Mountain Biking UK Magazine
Mountain Biking UK Magazine celebrates everything that is great about mountain biking. Whatever your age, discipline or ability level, as a reader you are guaranteed to get more from your riding with MBUK.
Covering all mountain biking disciplines, Mountain Biking UK is the UK's biggest selling bike magazine. In every issue you'll find news and honest reviews of the latest bikes and kit, with the Wrecking Crew testing them to destruction. Stunning photography highlights the most extreme stunts, showing you what it's like to ride at the highest level. There's also great advice on mountain biking techniques for all levels and abilities, plus interviews and features on the best in the business.
Get a Mountain Biking UK Subscription now to save a massive amount of the regular price and have the magazine delivered to your door for free every month. Subscribe to MBUK now and never miss another issue!
In Recent Issues of MBUK
Find your flow – how to ride more smoothly and gain extra speed… Tested – hardtails for £1000… Light fever – how to have your best night ride ever… World champ – how Steve Peat finally nailed it… Find new routes now – stay local and uncover hidden gems… MBUK magazine reveals the best new bikes, kit and tips to take your mountain biking to the next level… Six of the best hydro packs… Why insane drops and gaps are back and bigger than ever… Wild riding and epic landscapes on the West Highland Way… Order your Mountain Biking UK subscription now for great articles like this and more every month.
Who Reads MBUK Magazine?
Mountain Biking UK Magazine has a readership that is 98% male with an average age of 25. The magazine is made by mountain bikers for mountain bikers.