Total Guitar Magazine Subscription
Subscribe now and save up to 37%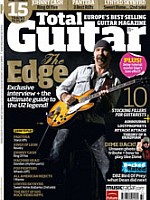 From £11.25 to £46.00
From 3 stores
Total Guitar Magazine
Europe's best selling guitar magazine, Total Guitar Magazine is dedicated to making beginner and intermediate guitars better, turning them into expert guitarists. It features a superb mix of content from interviews and reviews to profiles, professional tips and lessons.
Each issue of features interviews with the biggest stars of today and profiles where you can learn their gear secrets and playing styles. Your technical questions are answered and you'll find the best guitars, amps and effects reviewed in detail plus advice on how to construct, set up and maintain your dream rig.
Want to learn your favourite songs? Total Guitar Magazine features full transcriptions and lessons with guitar tabs, plus video lessons on the cover mounted CD and gives you more songs to learn than any other guitar magazine.
There's a cover CD every month which features exclusive video lessons and backing tracks to the songs you'll be learning in the issue, so that you can play along with the band, and there are even tips on how to form a band.
Order your Total Guitar subscription now and you'll be playing along to your favourite songs by the end of your first issue. There's free delivery to your door each month with all subscriptions.
The Latest Issue of Total Guitar Magazine
There's an exclusive interview with legend The Edge and the ultimate guide to the U2 guitarist. Discover the versatility of delay pedals with Total Guitar's walkthrough of five different set-ups. There's a tribute feature to Dimebag Darrell five years on and the story of Schecter Guitars. Learn to play songs from Foo Fighters, Johnny Cash, Kings of Lean, Machine Head, Lynyrd Skynyrd and All American Rejects. Plus, more from Attack! Attack!, Airbourne, Lostprophets and Theory of a Deadman. Buy your Total Guitar Subscription now!