Woman's Weekly Magazine Subscription
Subscribe now and save up to 91%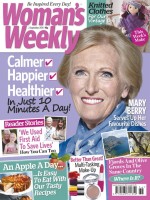 From £1.00 to £108.49
From 3 stores
Compare
Issues
Save
Price
Subscribe
6
91%
£1.00
Subscribe Now
50
25%
£47.49
Subscribe now and get a free £5 Amazon.co.uk gift card!
13
14%
£13.49
Subscribe Now
50
4%
£57.49
100
10%
£108.49
13
14%
£13.49
Subscribe Now
50
4%
£57.49
100
10%
£108.49
Join our newsletter for exclusive deals, voucher codes & more!
Woman's Weekly Magazine
Woman's Weekly celebrates the home, family and lives of mature women, providing practical help, advice and inspiration. It has been the market-leading womens weekly magazine since its launch over 100 years ago. Woman's Weekly is packed full of delicious recipes that have been developed and tested in the magazine's own kitchen, the latest health news, entertaining short stories, brilliantly edited fashion features and beauty advice, gorgeous craft and home ideas and absorbing real life stories.
Subscribe to Woman's Weekly now and you'll never miss an issue. Plus, your Woman's Weekly subscription will be delivered to your door for free every week.
In Recent Issues of Woman's Weekly
Be calmer, happier and healthier in just 10 minutes a day… Mary Berry serves up her favourite dishes… Better than great: multi-tasking make-up… Antibiotics: the truth behind the headlines… Dress yourself slimmer with these 6 complete outfits… Reap what you sow: how to create a fruitful garden… Creature comforts: easy owl cushion to sow… How failure can change your life for the better!… Jamie Oliver on his happiest childhood memories… Two complete no-fuss Sunday lunch menus… Glowing skin in just 7 days: it's all about what you eat… Arthritis update – a new treatment approach. Order your Woman's Weekly subscription today for more wonderful articles like this every week.
Who Reads Woman's Weekly Magazine?
Mature women who love being at the heart of their homes and families.