CAR Magazine Subscription
Subscribe now and save up to 32%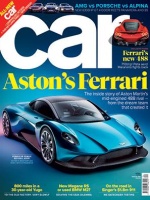 From £3.50 to £45.00
From 3 stores
CAR Magazine
The award winning Car Magazine is the definitive view of the world of motoring. It puts you in the driving seat of the world's best cars, giving unrivalled insight and opinion. Car Magazine provides a constant stream of motoring news, first drives and exclusive pictures of new cars. It reveals with authority what to buy and what to avoid.
CAR Magazine invented the group test and pioneered the drive story, to features which remain highlights of the magazine. If you want to learn about the next generation of cars first, and find out what's best in the current marketplace then order your Car Magazine subscription now. You'll enjoy great savings on the regular cover price, with free delivery to your door every month.
In Recent Issues of CAR Magazine
Jaguar's 3-Series and the baby Range Rover – Car Magazine reveals the 13 Jags and Land Rovers launching by 2015… 20 must-read news pages featuring the secret BMW supercar and the next Porsche 911… 12 ways McLaren plans to beat Ferrari – a world exclusive… The most important engine ever built… The 911 Sport Classic – icon or rip-off?… What drives us? – the 16 cars we drive day-in day-out. For great articles, tests, news and interviews and a whole load more, order your Car Magazine subscription today!
Who Reads CAR Magazine?
The typical Car Magazine reader is male and aged between 25 and 55. Readers tend to drive cars by BMW, Audi, Ford or VW and aspire to drive the top marques.
Official Website