Evo Magazine Subscription
Subscribe now and save up to 80%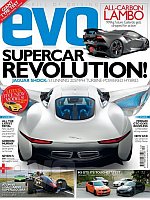 From £5.00 to £49.99
From 2 stores
Evo Magazine
Evo Magazine is devoted exclusively to the world's most desirable performance cars, from fun GTI hatchbacks to 200 mph+ Italian supercars. EVO is a quality car magazine featuring award winning photography informative, entertaining writing. Evo magazine focuses on technology, exclusivity and performance at all levels, putting the reader firmly behind the wheel.
Every month features exclusive speed tests, rigorous road and track tests, interviews news and the world's best motoring photography. Evo Magazine will immerse you in the experience of driving performance cars. Anyone who loves the thrill of driving will enjoy a monthly EVO Subscription. Order your today and save on the cover price, plus get free delivery to your door. An Evo Magazine subscription also makes a great gift for any lover of fast cars.
In Recent Issues of Evo Magazine
Supercar revolution – Jaguar shocks with a stunning 205mph turbine-powered hybrid… The all-carbon Lambo – 999kg Gallardo gets stripped for action… Ferrari GTO goes roofless… Five new Lotus models… Atom V8 vs Gallardo Superleggera… The most powerful Caterham ever… Beating the fuel crisis… A massive 48-page Ferrari vs Porsche drive-off… Patrick Snijers back on the Manx Rally… Plus, there are great regular features like the Evo Magazine buyers guide and Ask The Experts in every copy of your Evo Subscription. Order yours today!
Who Reads Evo Magazine?
The majority of readers are male (98%) with an average age of 39 years. All are passionate about performance cars.
Official Website