Closer Magazine Subscription
Subscribe now and save up to 19%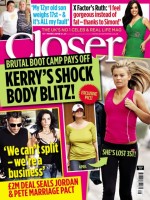 From £6.40 to £73.90
From 1 store
Compare
Issues
Save
Price
Subscribe
4
16%
£6.40
Subscribe Now
51
19%
£73.90
Use voucher code 10OFFMAY at checkout & get 10% off when you spend £24
Join our newsletter for exclusive deals, voucher codes & more!
Closer Magazine
Closer is one of the biggest selling weekly women's magazines. Closer Magazine is packed full of the latest celebrity news and photos, plus much more including fashion, beauty and health advice for the modern woman. It gets right to the heart of every story and gives you the juicy details behind every headline.
Closer Magazine treats everyone as equals and alongside the celebrity news are stories about people like you or me. Every week is different bringing you the latest news and inside stories first.
With your Closer Magazine Subscription you will also be able to keep up to date with what's on the box every day with the weekly TV guide and highlights, plus superb sections on fashion & beauty, lifestyle, diet and health. Closer Magazine really does have it all.
Don't miss out – order your Closer Magazine Subscription today and benefit from a price much cheaper than in your local newsagent. Plus each issue of your Closer subscription is delivered FREE to your door!
In Recent Issues of Closer Magazine
Boozy Jordan declares "I look so fat and old" – Jordan tries to forget her disastrous 2009 year and gains half a stone after a month of partying and drinking… Celebrity romances on the rocks – Reese Witherspoon, Hate Hudson and Madonna's marriages are on thin ice and they could be facing the New Year alone… Jessie Wallace loses 2 stone and promises not to put the pounds back on like friend Natalie Cassidy. Get your Closer subscription today for news & stories like these every week!
Who Reads Closer Magazine?
Closer is aimed at all women, with the core audience aged 20-45. It's a magazine for women who enjoy their lives and don't take themselves too seriously. Closer magazine reflects every aspect of their packed lives and acknowledges that gossip makes the world go round, so you may as well enjoy it!
Official Website