Heat Magazine Subscription
Subscribe now and save up to 26%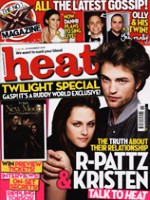 From £6.10 to £73.80
From 3 stores
Heat Magazine
Each week Heat Magazine brings you the hottest celebrity news, cheeky gossip and sneaky photos. As well as those shots the celebs don't want you to see Heat Magazine also packs exclusive interviews, style tips and a superb TV guide.
Heat is THE must-have weekly celebrity magazine. With a unique sense of humour it delivers all of the latest celebrity gossip before other magazines. Order your Heat subscription now and the magazine will land on your doorstep first every month. Don't miss out – subscribe today!
In Recent Issues of Heat Magazine
Furious Katy Perry tells Russell "I don't want your baby"… Cheryl Cole pulls long term crush Taio Cruz, and he's Ashley's mate… "I'm anorexic again but I'm getting help" by Nikki Grahame… Perfect winter coats, killer party heels and gorgeous chunky knits… Jordan talks exclusively to Heat Magazine: "I've ruined my body – I hate my boobs, my skin is like leather, my teeth are falling out"… Girls Aloud – torn apart by jealousy. Inside the ugly feud ruining their friendship… X-Factor scandal – breakdowns, drugs and threesomes… Geordie Shore without make-up… Doctor warms posh, "you need a back brace"… Keep up to date with all the latest celebrity gossip – order your Heat Magazine subscription today and be the first to get the goss.
Who Reads Heat Magazine?
Heat is read by women aged 16-35 who are obsessed with celebrity gossip. A typical Heat reader is in her mid-twenties, a social butterfly with a career that's on the up. Readers are incredibly entertainment literate: avid cinema goers, DVD renters, internet users, music lovers and TV addicts. Heat magazine readers are intelligent and prolific shoppers especially when it comes to high street fashion and beauty products.
Official Website