Woman Magazine Subscription
Subscribe now and save up to 83%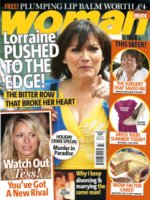 From £1.00 to £52.99
From 1 store
Compare
Issues
Save
Price
Subscribe
6
83%
£1.00
Subscribe Now
50
15%
£52.99
Subscribe now and get a £5 Amazon.co.uk Gift Card!
Join our newsletter for exclusive deals, voucher codes & more!
Woman Magazine
Every week, Woman Magazine gives you great tips, smart shopping and clever ideas to make your life better. Woman has more real life stories and top celebrity features than other magazines as well as advice pages and new expert columns from Ian Marber, the Food Doctor and Martin Lewis from moneysavingexpert. Order your Woman subscription now and you'll also be kept up to date with great deals and discounts on fashion, beauty and home products.
Woman Magazine is packed full of the latest celebrity news and photos, plus much more including fashion, beauty and health advice for the modern woman. It gets right to the heart of every story and gives you the juicy details behind every headline.
So don't miss out – order your Woman Magazine Subscription today and get free delivery to your door every week!
In Recent Issues of Woman Magazine
Jennifer Aniston fights back and cancels her secret meetings with Brad – she reveals her go-it-alone baby plan to Woman Magazine… Could Fern's gastric band go bad?… Fix your food cravings – smart ways to lose weight… 27 gorgeous hair ideas… 43 hot buys for summer, plus how to dress 5lbs slimmer… The easy power food diet plan… Woman reveals which kind of chocolate is anti-ageing! You'll read great articles, stories and more in every issue of your Woman Magazine Subscription.
Who Reads Woman Magazine?
Woman magazine is a weekly title aimed at busy, modern family women in their 30s and 40s. Readers enjoy other titles such as Hello Magazine and Closer Magazine. Subscribe today and have Woman Magazine delivered to your door every week.