Digital Camera Magazine Subscription
Subscribe now and save up to 29%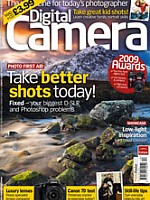 From £12.50 to £51.00
From 3 stores
Digital Camera Magazine
Digital Camera Magazine is your practical guide to getting the most out of your digital camera and creating better photographs. It is the ultimate guide for today's amateur or professional photographer. Every issue of Digital Camera Magazine is packed full of inspirational images, expert techniques and essential tips for capturing perfect images. And it doesn't just stop there. You'll also learn some great techniques for manipulating your images on your computer.
Ordering a subscription will also keep you up to date with the latest digital SLR and compact cameras, essential accessories and computer software.
Each copy comes with a free CD-ROM featuring simple, step by step video lessons for Photoshop and Elements giving you the skills you need for expert results every time. Everyone who orders a Digital Camera Magazine Subscription will also benefit from uninterrupted cover images, free from any additional text.
The Latest Issue of Digital Camera Magazine
Learn to create a contemporary family portrait in the masterclass, have fun with expressions and create an exciting photomontage. Discover essential SLR and Photoshop fixes to make your photos better. Find out how to turn everyday objects into beautiful still life masterpieces. Check out the gear of the year review where you'll find the best cameras, lenses and printers of 2009. Plus, much, much more!
Get your Digital Camera Magazine subscription now to receive free delivery to your door, save money off the cover price, and get your copy a week before it hits the shops.