F1 Racing Magazine Subscription
Subscribe now and save up to 87%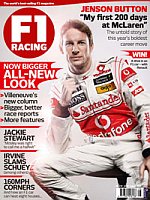 From £3.00 to £51.99
From 2 stores
F1 Racing Magazine
The world's best selling Formula One magazine, F1 Racing Magazine captures the drama and glamour of the world's most exciting sport, giving exclusive behind-the-scenes access to the drivers, teams and organisers who make the sport such a spectacle.
In every issue, F1 Racing Magazine explores the dynamics of the F1 teams, the on- and off-circuit lives of the drivers and takes you into the minds of power-players like Bernie Ecclestone. F1 Racing features full race reviews and previews, track analysis and much more, all backed up by the best F1 journalists and photographers. The magazine really captures the excitement of the sport.
Don't miss out – order your F1 Racing Magazine Subscription today to benefit from a price much cheaper than your local newsagent. Plus get each issue of your subscription delivered FREE to your door!
In Recent Issues of F1 Racing Magazine
Villeneuve, Hill and Mansell on F1's greatest ever showdown… F1 Racing reflects on Bernie Ecclestone at 80… They've been the backmarkers this year, but find out why Lotus have high hopes for next year… Jenson Button talks about his hectic schedule for the end of the season… 0-120mph in just 5 seconds – how to get the perfect F1 race start… Renault's doctor describes the effects that driving an F1 car has on the body… Inside Abu Dhabi's Ferrari World and a look at the world's fastest rollercoaster… Nico Rosberg answers your questions… Jenson Button discusses his first 200 days at McLaren. There are more great articles and columns like this in every issue of your F1 Racing subscription. Get yours today!
Who Reads F1 Racing Magazine?
Appealing to anyone with an interest in Formula 1, from fans and casual spectators to those involved with motor racing, F1 Racing magazine readers are generally men between the ages of 18 and 40.