Golf Monthly Magazine Subscription
Subscribe now and save up to 35%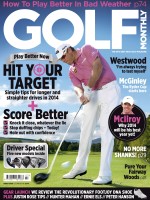 From £41.99 to £96.99
From 3 stores
Golf Monthly Magazine
Launched in 1911 Golf Monthly is the UK's longest established and best read golf magazine. Boasting the most comprehensive coverage of the game at all levels, a Golf Monthly subscription is the ideal choice for all players, whatever their experience. The magazine is packed full of equipment reviews, instruction tips, golf news and results, plus big name interviews, travel and property features and lots of reader interaction.
Order your Golf Monthly Magazine subscription to ensure you never miss a copy and receive free delivery to your door every month. You can also be assured of saving plenty of money on the standard newsagent price.
In Recent Issues of Golf Monthly
Play better now and hit your target: Simple tips for longer & straighter drives… Score better: Knock it close, whatever the lie; stop duffing chips; hole out with confidence… How to play better in bad weather… Gear launch: Golf Monthly reviews the revolutionary new shoe from Footjoy… Westwood: 'I'm always trying to test myself'… Why this year will be McIlroy's best yet… John Daly: The crazy world of golf's most colourful character… Bunker basics: Tips to escape the deepest traps… Your 60-second punch shot lesson… Help or hinder? Does waving through cause slow play?.. Build the perfect swing whatever your body type… 15 new mallet putters tested… Order your Golf Monthly subscription today for more brilliant features like this every month.
Who Reads Golf Monthly Magazine?
Golfers of all ages and abilities who want to improve their game and learn more about the sport.