Today's Golfer Magazine Subscription
Subscribe now and save up to 52%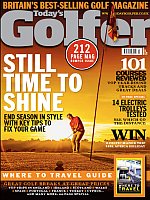 From £2.60 to £45.00
From 3 stores
Today's Golfer Magazine
Britain's best selling golf magazine, Today's Golfer will help you buy better kit and play better golf. Today's Golfer Magazine gives expert instruction from the best in the sport and features weekly unbiased equipment tests and course reviews. It's the essential magazine for the keen golfer.
Every month, Today's Golfer features interviews with top world golfers, and the best advice and tips to improve your golf in no time. It really will transform your game!
Ensure you never miss a copy by ordering your
In Recent Issues of Todays Golfer
All your faults fixed – banish bad shots, from slices and hooks to fats, thins, tops, pulls, pushes and missed putts… 'Mr Accurate' shares his secrets – learn from the best UK amateur ever… Play better – how to grip and chip properly… Revealed: the class of 2011 – the best new irons from Taylormade, Wilson and Mizuno… Luke Donald takes up another sport – Today's Golfer finds out what it is!… The truth about handicaps – all your questions answered… 101 courses reviewed – top year-round golf courses and great deals… 14 electric trolleys tested – see which ones go the distance. For great features like this and much more, order your Today's Golfer Subscription now!
Who Reads Today's Golfer Magazine?
The typical Today's Golfer magazine reader is an active golfer seeking to improve his game. With an average age of 40 he enjoys spending time with family and friends, watching sport and having that competitive edge in golf.
Official Website