Grazia Magazine Subscription
Subscribe now and save up to 47%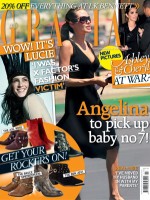 From £5.90 to £73.10
From 3 stores
Grazia Magazine
Grazia doesn't just give you the front page stories and most exciting celebrity news. Each week, the magazine is packed full of the latest designer fashions, superb shopping articles, beauty tips and much more.
If you want to lead a stylish life and keep up to date with the latest fashions and shopping tips while being the first to read the front page celebrity news stories, Grazia Magazine is the one for you. It was the UK's first weekly fashion magazine, transforming the monthly glossy into a stunning weekly format. To this day, the magazine remains the market leader in this area. Don't miss out – order a Grazia Subscription today and get your style on!
In Recent Issues of Grazia Magazine
Lily Allen looks back over the last decade and explains why she's turning her back on fame… X Factor winner Joe McElderry reveals how he's coping with his new-found fame and what he's buying Cheryl for Christmas… Find out who's top in the Best Dressed of 2009 list which features everyone from Rihanna, to Michelle Obama and Lady Gaga… A recap of the highs and lows, biggest news and most shocking stories of the noughties.
Straight from the London premiere of her new movie Did You Hear About The Morgans?, Sarah Jessica Parker spills the beans on her struggle to balance motherhood with her work life… All the backstage gossip and winners from this year's British Fashion Awards… Grazia Style Director Paula Reed jets over to Shanghai to preside over Karl Lagerfeld's opening of Chanel's first store in the city… Learn about the woman who grew her own breast implants!…
Plus, there are great competitions every week with fantastic prizes for you to win, so order your Grazia magazine subscription today and get the magazine delivered FREE to your door each week!
Who Reads Grazia?
The core reader base is upmarket women in their 30s. They are affluent, and high spenders on fashion and beauty. The majority of Grazia readers are married or living with a partner and working full time. The quality fashion content keeps Grazia readers buying the magazine. Why not join them and subscribe today?
Official Website