HELLO! Magazine Subscription
Subscribe now and save up to 57%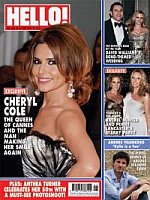 From £12.00 to £75.00
From 2 stores
HELLO! Magazine
The award winning weekly magazine HELLO! is renowned for its superb celebrity photo features and its ability to gain exclusive access to the lives of the rich and famous. HELLO! Magazine presents an interesting mix of articles and interviews with celebrities around the world as well as a regular series of practical features.
Whether you're looking for the latest gossip on UK or world celebrities, WAGs or the Royals a HELLO! Magazine Subscription will give you everything you want and more on a weekly basis. Read about the big stories before anyone else.
You will also keep up to date with the latest in fashion, beauty, health and cookery with regular features, advice and ideas. Don't miss out – order your subscription today and save on the regular cover price. Plus, each issue will be delivered FREE to your door!
In Recent Issues of HELLO! Magazine
Cheryl Cole – the queen of Cannes and the man making her smile again… Anthea Turner celebrates her 50th Birthday with a must see photoshoot… David Walliams and is Bond-themed wedding… Rachel Hunter and Penny Lancaster's starry party… Jack Nicholson's fashion designer daughter opens the doors to her LA home… Candace Bushnall, the writer of Sex And The City tells how she compares to her creation Carrie Bradshaw. Order a HELLO! Magazine subscription today for celebrity news stories like this every week!
Who Reads HELLO! Magazine?
90% of HELLO! Magazine readers are female, spanning a wide range of age groups with an average age of around 34 years. HELLO! subscribers enjoy the magazine because they see it as more upmarket than other celebrity magazines such as Heat and Closer. In addition to celebrity news, readers are interested in fashion, beauty, cookery and travel.
Official Website