OK! Magazine Subscription
Subscribe now and save up to 50%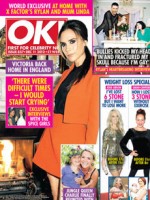 From £13.00 to £59.00
From 2 stores
OK! Magazine
Celebrity lifestyle magazine OK! is the top choice for showbiz gossip, news and interviews from the UK and around the world. Each week OK Magazine brings you the latest stories and exclusive photo shoots of the world's biggest celebrities. OK is always the first for celebrity news and has a long running history of gaining exclusive access to the most important weddings around the world. Don't miss out – subscribe to OK! Magazine today! You will get free delivery to your door each week and will never miss out on the latest gossip.
In Recent Issues of OK! Magazine
Prince William and Catherine – Our new life at home in Kensington Palace. Kate says "I'm getting worse at cooking"… Shock exclusive – "Chantelle's already my wife"… Peter Andre on his new girlfriend – "My Kristina's a total sex bomb"… Girls Aloud's Nadine Coyle – "What did I do wrong?"… Tearful Mark fights back – "I broke down when Lauren got rid of my baby". World exclusive – his first and only interview since Lauren's betrayal… Katie Price & Leandro's shock split… Lord Paddy and Lady Kerry invite OK Magazine to their very own Downton Abbey… "We're done" – Kim Kardashian files for divorce after only 72 days. Why Kim felt trapped, embarrassed and tricked. Kris' ultimatum – "me or your family". He throws a divorce party. For more great exclusives like this every week, order your OK Magazine subscription today.