Homes & Antiques Magazine Subscription
Subscribe now and save up to 80%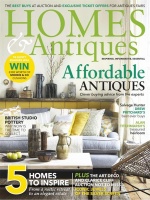 From £5.00 to £46.00
From 3 stores
Homes & Antiques Magazine
Mixing the best of the old with the best of the new, Homes & Antiques Magazine is for people who adore great design and beautiful objects from every era. Homes & Antiques offers something unique and fresh. Alongside unrivalled guides to antiques and collectibles, you'll find inspiring real interiors, sizzling style and decorating ideas, and a huge range of features. Not only that, Homes & Antiques has the practical stuff too – whether it's making your own soft furnishings or changing your home from top to bottom.
In its warm and informative way, Homes & Antiques shows you how to mix your favourite antique and vintage finds with the latest pieces from the high street. Make sure you don't miss out, order your subscription today.
In Recent Issues of Homes and Antiques
Eclectic Interiors – 127 ideas for transforming your home with a mix of new, antique and vintage finds… Masterclass with paint expert Annie Sloan… Collectors' Homes – five unique spaces filled with brilliant decorating and display ideas for you to try… Eight trade secrets for creating your perfect bathroom… Smart buys – from design trends to auction house bargains and more… Tropical brights – create a sizzling scheme with bold colours and punchy patterns… How to commission a portrait of your home… Kitchen trends – the latest looks for the heart of the home. Order your Homes & Antiques subscription today for more fascinating articles like this every month.
Who Reads Homes & Antiques Magazine?
People who love their homes and like to combine the vintage with the modern.