PC Gamer Magazine Subscription
Subscribe now and save up to 22%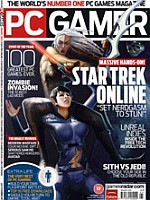 From £15.00 to £62.00
From 3 stores
PC Gamer Magazine
The UK's biggest and best selling PC gaming magazine, PC Gamer is written for real enthusiasts. With its finger on the pulse of the PC games world, it delivers insightful features, exclusive previews and in-depth game reviews every month.
Take up a PC Gamer subscription and you will learn everything from whether Steam is better than Windows Live to which graphics card you should buy to get the most out of the latest PC games. The magazines will teach you how to build and mod your PC and delivers authoritative reviews of the biggest games so you know what you should be playing.
Every issue of PC Gamer magazine comes with a 9GB DVD packed full of the latest game demos, add-ons, patches and videos. With a PC Gamer subscription you will also benefit from free delivery each month, and an enhanced magazine cover which is free from additional, intrusive text. Order your subscription today!
Recent Issue of PC Gamer Magazine
Some of the latest editions of PC Gamer have included… Starcraft 2 eyewitness investigation – PC Gamer travels to South Korea to witness a spectacular announcement… Expert advice on wireless gaming… The 100 greatest PC games ever… A massive hands-on review of Star Trek online… Revealed – the game that could kill GTA! Special news of APB (All Points Bulletin), a city-based community game where you can choose to play against or with the criminals… The world's first review of Bioshock 2… How to get a job in the games industry… Plus, get much more every month when you purchase a PC Gamer magazine subscription.