Marie Claire Magazine Subscription
Subscribe now and save up to 70%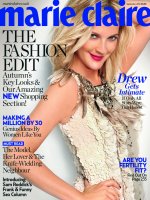 From £14.99 to £39.99
From 3 stores
Marie Claire Magazine
Marie Claire is the UK's biggest selling fashion monthly. The magazine is a worldwide icon with editions in 36 countries and it epitomises style and substance.
Marie Claire magazine dedicates more pages to fashion than ever before. With fabulous styling and the world's best photographers, it showcases the biggest trends and best clothing and accessories every month. There are more beauty pages than in any other glossy and these showcase the best new products along with trusted favourites, always offering the most up-to-date advice.
Every month, provocative features highlight must-read stories from a wide range of topics. It combines hard-hitting journalism with the finest photography, captures stories of inspiring women from around the world. Marie Claire magazine enjoys a long standing relationship with the Hollywood A-list bringing the reader exciting new celebrity stories before anyone else.
Order your Marie Claire subscription now for all of this plus great pages on travel, lifestyle, health, food, relationships and culture. You'll receive your magazine subscription before it hits the shops, with free delivery to your door.
In Recent Issues of Marie Claire
The fashion edit – Autumn's key looks and an amazing new shopping section… Drew Barrymore gets intimate and honest… Making a million by 30 – genius ideas by women like you… The model, her lover and the knife wielding neighbour… Prostitutes interview their clients… Vanessa Paradis on Johnny Depp… Marie Claire magazine reveals the five rules of happiness… What do your sex dreams really mean?… Health fixes for busy women. All this and more with every copy of your Marie Claire subscription. Order today!
Who Reads Marie Claire Magazine?
The typical Marie Claire reader is 25 or over and smart, fun, ambitious and savvy. She is a well-educated urban professional and passionate about both high-street and online shopping and investing in key designer staples every season.