Practical Photography Magazine Subscription
Subscribe now and save up to 31%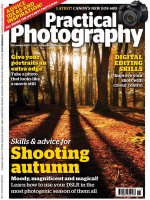 From £49.00 to £54.00
From 3 stores
Practical Photography Magazine
If you're passionate about photography, Practical Photography Magazine is the one for you. Every month, Practical Photography delivers a huge range of content to help you take better photos and show you how to use the right gear. It's right at the forefront of both creative and technical advances in photography.
In each issue of your Practical Photography subscription you will receive step-by-step tuition and advice on how to get the best from your digital camera. There are insightful gear guides where all the latest digital SLRs and camera accessories are tested and reviewed fully.
Order a Practical Photography subscription today and you'll receive the magazine through your door every month and save a huge sum of the cover price.
In Recent Issues of Practical Photography
Skills and advice for photographing autumn – learn how to use your DSLR in the most photogenic season of all… Digital editing skills – improve your shots with colour control… Give your portraits an extra edge – take a photo that looks like a movie still… Canon's new EOS 60D… Master contrast and exposure with Practical Photography Magazine's digital editing skills tutorial… How to shoot more with a macro – unleash all the potential of your macro lens and take better photos… Rescue lost images – a guide to recovery software. Order your Practical Photography subscription now for great features, tutorials and gear reviews like this every month.
Official Website