SFX Magazine Subscription
Subscribe now and save up to 36%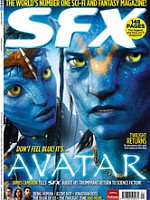 From £10.25 to £42.00
From 3 stores
SFX Magazine
The World's number 1 sci-fi and fantasy magazine, SFX delivers news, interviews, exclusive features, star profiles, behind the scenes stories and TV episode guides. SFX Magazine covers all areas of science fiction and fantasy, from TV and film to books, comics, games and collectibles.
Your SFX subscription doesn't just save you pounds off the cover price and give free delivery to your door. More than the standard street copy, subscribers to SFX also receive limited edition clean covers with no text, which are sure to become collectibles in the future.
SFX Magazine – The Latest Issue
James Cameron tells SFX about his triumphant return to science fiction with the incredible new movie Avatar. Twilight returns with the sequel, New Moon, where vampires meet werewolves. Behind the scenes of the new BBC TV series, Paradox, with exclusive cast and crew interviews. Joe Dante, the man behind Piranha, The Howling and Gremlins explains what made him do it. There's also a Christmas gift guide, tons of reviews and spoilers, plus much more across 148 pages. Get your SFX Magazine Subscription now!