Empire Magazine Subscription
Subscribe now and save up to 39%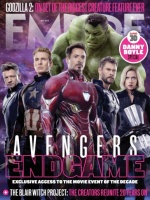 From £3.40 to £44.50
From 3 stores
Empire Magazine
Empire is Britain's biggest selling movie magazine and provides an unmissable insight into new and classic films, both at the cinema and on DVD. The magazine features exclusive previews of forthcoming movies, reviews of new releases, and interviews with top acting stars.
Every month, Empire Magazine includes features to whet the appetite of any movie buff. If you want to know which films to rush out and see and which to avoid like the plague, then an Empire magazine subscription is for you. There are interviews with the most respected actors and directors as well as new names on the scene that you may not yet know. Plus, you'll stay up to date with the latest news from Hollywood and beyond.
Don't miss out – order your Subscription today, save on the cover price and receive your magazine before it hits the shops!
Highlights from an example issue of Empire Magazine
An exclusive preview of Star Wars: The Force Awakens – J.J. Abrams on the most anticipated film ever… Empire goes on set with Alice in Wonderland and Tron to show how these films are taking shape… There's an exclusive interview with Mel Gibson to mark his return to the big screen as Thomas Craven in Edge of Darkness, plus a review of his life in film… Hot on the heels of Harry Potter, could a boy named Percy be the next teen hero, following the imminent release of Percy Jackson & The Olympians: The Lightning Thief?… What does Toy Story 3 have in store for us later this year?… Plus, massive DVD reviews of District 9, Funny People and 24. Order an Empire Subscription now for more like this every month.
Who Reads Empire Magazine?
Empire is read by affluent movie fans and cinema goers, and three quarters of readers are male. Join them by subscribing to Empire Magazine.
Official Website