Total Film Magazine Subscription
Subscribe now and save up to 37%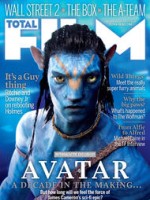 From £12.25 to £51.00
From 3 stores
Total Film Magazine
Total Film is the definitive modern movie magazine covering everything from Hollywood blockbusters and new independent films to classic cinema fare. Every month, Total Film Magazine features the latest news and gossip from the movie world along with sneak previews of the latest films in production. Plus, the latest DVD and cinema releases are reviewed along with interviews with the hottest actors and actresses gracing your screens today. Don't miss out – subscribe today!
With your Total Film subscription you will not only save a huge amount of the regular cover price and get free delivery to your door, but you will also benefit from uninterrupted cover images every month, free from the additional text of the high street copies.
Total Film Magazine – Recent Features
Past issues of Total Film magazine have included articles such as… An exclusive interview with Megan Fox, who talks about Jennifer's Body, Jonah Hex and Fathom… 20 of the best horror films you've never heard of… A huge celebration of sci-fi movies from 50s communist panic, to noughties terror, including James Cameron's hit Avatar… The massive 2010 preview with everything to look out for in the year ahead… The return of Mel Gibson in revenge drama Edge of Darkness… The rise of Mila Kunis – why the girl from That 70s Show, Family Guy and Max Payne is going to be huge, with 3 new movies on the way… Mark Wahlberg discusses The Lovely Bones, remakes and talking to plants… Movie Psychos on trial – Keyser Soze, Hannibal Lecter, Tom Ripley – should they fly or fry?!… And a lot more in every issue of Total Film Magazine. Get your subscription now!