Edge Magazine Subscription
Subscribe now and save up to 25%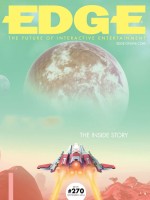 From £15.00 to £117.00
From 3 stores
Edge Magazine
The world's most respected multi-format video game magazine, Edge delivers insightful, intelligent writing all wrapped up with stunning design. Edge Magazine covers hardware and software from all over the world and across all formats, whether it's PC, console, online, portable or coin-op. The magazine features exclusive news, reviews, previews and interviews.
Edge Magazine is independent so you can be assured that reviews are completely impartial – the magazine will tell you what you need to know and not what the games developers want you to think. Order an Edge magazine subscription now to have the magazine delivered to your door every month and save a massive amount on the regular cover price.
Recent Issues of Edge Magazine
Recent features in Edge Magazine have included the following… A 36 page guide to working in the games industry… The inside story of the PS3 Slim – is Sony's new console equipped to move out of 3rd place?… An exclusive interview with Super Smash Brothers creator Masahiro Sakurai… Reviews of Bayonetta, Assassin's Creed II and Left 4 Dead 2 among hundreds of others… The stories of how Cannon Fodder and Micro Machines were created. Buy your Edge Subscription now for more like this in every issue of the magazine.