Simply Knitting Magazine Subscription
Subscribe now and save up to 83%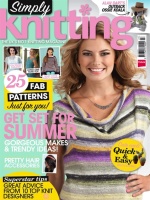 From £5.00 to £66.00
From 3 stores
Simply Knitting Magazine
Simply Knitting is the UK's best selling knitting magazine for a whole new generation of knitters. Whether a beginner or a seasoned knitter, every issue will provide you with loads of exciting patterns, knitting news and superb buys.
Simply Knitting gives easy instructions to show you how to get started on gorgeous knits, from fun clothes for babies to glamorous gifts for your best friends. The magazine is packed with club news, designer interviews, great new products, superb competitions and excellent technical advice. Of course, Simply Knitting Magazine also features the most stylish modern designs from famous names and exclusive reader offers and bargains.
Your essential knitting companion, Simply Knitting Magazine comes with a great free gift every month. Order your Simply Knitting subscription today and benefit from huge savings on the cover price and free delivery direct to your door each month.
The latest issue of Simply Knitting
The January issue of Simply Knitting features 29 fabulous New Year knits beneath the covers and a superb Christmas gift set to help you add those important finishing touches to your seasonal gift knits. The quick and easy knits section will help you keep warm this winter with designs for socks, mitts, and cosy hats. There's also an exclusive Shaun the Sheep design which is easy for beginners or kids. And of course there is so much more. Order your Simply Knitting Magazine Subscription today and enjoy hours of knitting fun every month.