Simply Sewing Magazine Subscription
Subscribe now and save up to 86%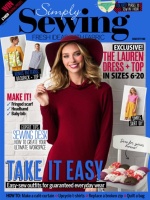 From £5.00 to £77.00
From 3 stores
Simply Sewing Magazine
The magazine for the modern sewist, Simply Sewing Magazine brings fresh new ideas with fabrics every month. Featuring stunning new patterns, beautiful photography and inspiring projects, it will make you impatient to get behind your sewing machine from the first pages.
Simply Sewing Magazine covers everything from fantastic new dress patterns (in a range of sizes) to fun toys for children and accessories like bags and scarves. Simply Sewing shows how to refashion your old items, customise your favourite clothes and will teach you the essential techniques to become an expert at sewing. Each issue comes with a gorgeous free gift, so order your subscription today and start making.
In Recent Issues of Simply Sewing
Take it easy – easy sew outfits for guaranteed everyday wear… Sewing desk – how to create your ultimate workspace… For kids: purses to sew in 1 hour… How to upcycle t-shirts… How to replace a broken zip… The art of refashioning – recycling your clothes to save the planet… Sew cosy – on trend faux fur homewares and accessories… New pattern – the Eloise coat and dress in sizes 6-20 – sew an exclusive two-in-one dress and coat pattern… Swan queen – handmade gifts for girls… Make your own Christmas jumper… Get ready for the party season with 20 projects to sew… Sweet gifts for babies… 1940s inspired vintage dress pattern… Bright shades and statement prints for a chic summer… How to sew with lace… Order your Simply Sewing subscription today for more great ideas and sewing projects every month.
Who Reads Simply Sewing Magazine?
A switched-on audience of people who sew or would like to start sewing and are looking for fresh ideas and inspiring projects to work on.