Sky at Night Magazine Subscription
Subscribe now and save up to 81%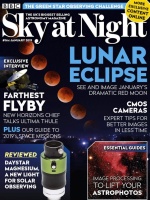 From £5.00 to £55.00
From 3 stores
Sky at Night Magazine
Essential reading for both serious astronomers and armchair enthusiasts, BBC Sky at Night Magazine is the UK's number one astronomy brand. The magazine will help you to develop your practical astronomy skills and keep you up to date with the latest scientific discoveries.
Each issue of BBC Sky at Night features columns by renowned experts, in-depth cosmological articles and practical tutorials for observing the skies with easy to follow star charts. You will also find comprehensive equipment reviews and astronomy masterclasses to ensure you get the most out of the observing month. Get your subscription today and enjoy free delivery to your door each month.
In Recent Issues of BBC Sky at Night
Lunar eclipse – see and image January's dramatic red moon… Exclusive interview – New Horizons chief talks Ultima Thule… BBC Sky at Night guide to 2019's space missions… A guide to image processing to lift your astrophotography… CMOS cameras – expert tips for better images in less time… Planet nine – an interview with Mike Brown who demoted Pluto. Has he found a replacement?.. Back garden observing tips – reduce the effects of light pollution at home… ESA's Mars adventure – Europe's Exomars mission sets of for the Red Planet… Dark Sky Nation: Wales protects its night… Tim Peake returns to Earth – after 6 months aboard the ISS, what comes next for the UK astronaut?.. Helen Sharman – the first Brit in space recalls her historic flight 25 years ago… Mobile imaging – the best night sky targets for your smartphone… How to see ringed planet Saturn at its best this month.. Order your Sky at Night subscription today for engaging articles and useful tips like this every month.
Who Reads Sky at Night Magazine?
Sky at Night is aimed at all levels from beginner to advanced astronomers. Currently, 82% of readers are male with an average age of 53, but the magazine suits anyone with an interest in astronomy, young or older, male of female.