Stuff Magazine Subscription
Subscribe now and save up to 67%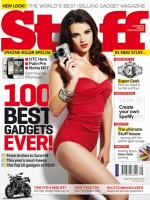 From £5.00 to £39.99
From 2 stores
Stuff Magazine
The world's number one gadget magazine, Stuff Magazine is your ultimate guide to the world of gadgets. Stuff is a monthly magazine that features breaking news on the latest products, in-depth reviews and outspoken opinions. Every month, the magazine tries and tests a plethora of gadgets to give you the ultimate top 10 lists in every area from MP3 players, to netbooks, smartphones and watches. You'll be kept constantly up to date with the gadget elite.
Stuff Magazine's industry contacts mean they get to test out the latest gear for you before anyone else. Get a Stuff Subscription now and you'll know what the next big thing is before anyone else. It's unique blend of gadgets, gear and wry humour have made it one of the best-loved gadget magazines on the shelf.
Don't miss out – order your subscription today and save on the normal cover price. Each issue of your Stuff subscription will be delivered FREE to your door every month!
In Recent Issues of Stuff Magazine
The definitive 2010 cool list – the 15 things we love most right now… We compare three of the most rugged digital cameras with four of the most stylish… 12 essential iPad apps – you'll wonder how you lived without them… Adventure games through the ages – after 4 years, Alan Wake has finally arrived, so Stuff Magazine takes you through the history of the genre… Live for free – join Stuff on a journey through the tech freeloader's day… Freesat HD PVRs – record HD television without shelling out for a Sky subscription… The Stuff guide to mountain bikes – whatever your style, there's the machine for you… The 25 best watches in the world… Five of the best cameraphones money can buy… Order you Stuff Magazine Subscription now for great features like this every month!
Who Reads Stuff Magazine?
Stuff Magazine is aimed predominantly at men in their 20s and 30s but has a wide readership encompassing all ages and genders. They all share one thing in common: an addiction to the shiny things in life. It's all about the gadgets! Stuff outsells T3 Magazine by almost 2:1.
Official Website