Style at Home Magazine Subscription
Subscribe now and save up to 39%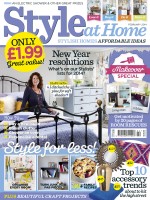 From £17.49 to £40.99
From 3 stores
Style at Home Magazine
Style at Home is the practical homes monthly magazine for women who take a hands-on approach to decorating, revamping and styling their homes. Every issue contains inspiring real homes, room transformations, easy makes, step-by-step projects, finishing touches and great-value shopping, plus a special pullout 'Cook It' section, with over 50 quick and easy recipes.
A unique feature of Style at Home magazine is Stylists at Home, a savvy peer-to-peer group of readers who share tips and give key features a style check. With tabbed sections – Love It,
Buy It, Do It, Make It – the magazine has everything that readers want for affordable homes, with plenty of stylish ideas that you can do yourselves. Get your Style at Home subscription now!
In Recent Issues of Style at Home
Makeover special: Get motivated by 20 pages of room rescues… How to: Buy a new-build; banish clutter; choose an oven; personalise a rental property… Top 10 accessory trends about to hit the high street… Turn junk into fab pieces… Make your home sparkle: Go glam with dramatic rooms, wrapping tricks and festive dinnerware… Stylish stocking fillers for under £30… Bold, cosy & vintage: 3 stylists at home, 3 bedroom makeovers… Cushion love: Take your pick from our A-Z and stylists' own designs… Be smart in a small space… Cute and easy craft projects… Kitchen schemes: Our stylists at home help you decide… Upcycling tips & projects… 100 ideas to get the latest woodland look… Order your Style at Home Magazine subscription today for more great articles and tips like this every month.
Who Reads Style at Home Magazine?
Budget-conscious women who want home style at an affordable price.