Wired Magazine Subscription
Subscribe now and save up to 42%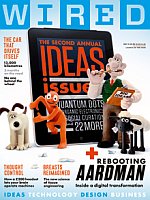 From £14.00 to £28.00
From 2 stores
Wired Magazine
The UK edition of Wired Magazine keeps you up to date with the stories, ideas and people that are changing the world. Every month, Wired Magazine focusses on the next big ideas in science, technology, business and culture, anywhere that innovation and big thinking is changing the way we live.
Order your Wired Magazine subscription today – every issue features great in-depth and thought-provoking articles, news stories, gear tests, how-to pages and much more. A Wired subscription will save you a huge amount off the regular cover price and you'll also get free delivery to your door each month before the magazine hits the shelves.
In Recent Issues of Wired Magazine
The ideas issue – 25 big ideas for 2011, from gestural interfaces to exome sequencing and chatitecture… Aardman morphs – the stop-frame creators of Wallace & Gromit have embraced the digital age, but can they keep their analogue charm?… Serial Killer – the AK-47 is the most deadly and transformative technology of the past century… The car that drives itself – 13,000km with no one behind the wheel… Thought control – how a £200 headset lets your brain operate machines… Behind the scenes of the Facebook movie… Power unplugged – electricity goes wireless… Kinect Wired Magazine exclusive – inside Microsoft's secret project to reinvent entertainment… Nature's backup – can the Global Seed Vault save us from the threat of world famine?… Supercharged – the era of the electric car is here. Every month, your Wired subscription will bring you cutting edge features, gear reviews and exclusive comment. Subscribe today!
Who Reads Wired UK Magazine?
Smart intellectually curious people who are interested in science, technology, culture, business and more. Wired Magazine has an 81% male reader base with an average age of 32.