Auto Express Magazine Subscription
Subscribe now and save up to 95%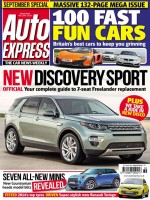 From £1.00 to £79.99
From 2 stores
Auto Express Magazine
Auto Express is a winning formula. For world exclusives (over 40 last year), ground-breaking editorial, the most comprehensive road tests and a definitive product market place, look no further than the biggest selling motoring weekly, which sells more copies each year than any other motoring magazine.
Auto Express is the car news weekly, delivering the big motoring news stories, scoop pictures, drives of new cars and road tests – FIRST! Nothing moves in the world of cars without Auto Express knowing about it, from future models to changes in the law. Auto Express is the definitive road testing magazine too, assessing more cars (over 1,100 a year) than any other magazine.
Order your Auto Express Magazine subscription now to ensure you never miss a copy and benefit from free delivery to your door every month. You will save heaps on the regular newsagent price too.
In Recent Issues of Auto Express
Peugeot's Quartz concept car shows how 3008 will move upmarket… Toyota's hybrid C-HR hints at a new challenger to the Nissan Qashqai… Parking fine appeals revealed – just one percent of eight million tickets were appealed in 2012… Mercedes-AMG C 63 – the latest BMW M3 rival gets a nee name and 469bhp pace… The new Bentley boys and girls – we join apprentices learning their trade at the Crewe factory… First drive verdict on the new Jeep Renegade… Behind the wheel of the new Audi TT – find out why it's the complete coupé… The full lowdown on the XE, Jaguar's most crucial car for a generation… Money in mileage – we investigate the rise in mileage correction companies. Order your Auto Express subscription today for more great features like this in every issue.
Who Reads Auto Express Magazine?
Predominantly men of all ages who are loyal readers, appreciating sharp, informative and concise editorial.