What Car? Magazine Subscription
Subscribe now and save up to 94%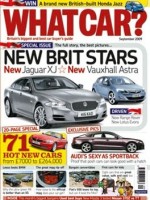 From £1.00 to £47.49
From 2 stores
What Car? Magazine
For almost 40 years, What Car? has been Britain's best guide to buying a car. It is the most in-depth motoring magazine around. Every issue of What Car Magazine features the latest road tests, consumer surveys, money saving tips and a full buyers guide, making it a must read for all car enthusiasts. It's the one stop shop for anyone looking to buy or lease a new car.
With features by some of the most well respected consumer motoring journalists in the world, you can be sure that the buying advice is top class and unbiased. What Car researches everything in the mindset of a typical car buyer, even mystery shopping to discover potential discounts. Performance tests are carried out on all vehicles before an in-depth debate between the many What Car experts. For the most authoritative reviews and comparisons around, subscribe to What Car Magazine now!
In Recent Issues of What Car?
The all new Golf and Mondeo – why family cars are about to get a lot better… Green awards – mega MPG champions revealed… Posh hatch test – the new Audi A3 beats BMW (and Volvo)… Honda CR-V first drive – our verdict and yours… Britain's best new-reg deals – 62-plate bargains: we tell you what to pay and how to buy… First pictures of Vauxhall's new Mini rival… Top 50 company cars… Money saving special – Britain's best used cars… The amazing new Golf driven, plus the 2014 BMW that could beat it… First drive – the all new Clio. You'll want one (at last)… The Jaguar F-Type – a £60k sensation… For more great news, reviews, comparisons and features order your What Car? subscription today!
Who Reads What Car? Magazine?
More than 20% of UK car buyers consult What Car? before making decisions on their purchases.