Computeractive Magazine Subscription
Subscribe now and save up to 52%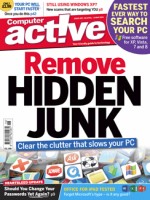 From £6.00 to £43.99
From 2 stores
Computeractive Magazine
The UK's best selling technology magazine, Computeractive Magazine is an accessible guide to buying and getting the most from the latest technology, providing simple, independent advice in plain English. Computer active magazine keeps this clear and concise, allowing readers to take full advantage of PCs, the internet and digital technology in general.
Each fortnightly issue of your Computeractive Magazine subscription will contain the following great sections:
News – a jargon-free guide to the latest issues affecting home PC users plus interesting titbits from the world of technology.
How To – features, workshops and Q&As explaining how Computeractive readers can achieve tasks and complete projects, often focussing on little-known but useful aspects of well known pieces of hardware and software.
Consumer interest features – helping you to understand how to avoid and solve disputes with retailers and manufacturers and examining the significance of new technologies.
Tried & Tested – Computeractive Magazine carries out independent, thorough tests to review all the latest hardware and software and give you the best-buys in each category.
Masterclass – introducing Computeractive readers to more advanced techniques in plain English.
Plus, every issue of your Computeractive subscription will feature the best of the web and exclusive downloads of full commercial software packages.
For the best PC help, tutorials, reviews and more, order your Computeractive subscription today, and save on the regular cover price, plus get free delivery to your door with every issue.
In Recent Issues of Computer Active Magazine
Windows 7 uncovered – why you should upgrade and how to get the most from it… Outsmart the email scammers – how to get the better of the con-artists… Computer active magazine shows you how to quickly and easily set up a professional website with it's own web address… How to add colour to black and white photos… How to share calendars between computers… Is your PC running slowly? Computeractive shows you how to speed it up for free… The new breed of printers – how do they differ?… Speech recognition tools put to the test… Try out Internet Explorer 9… Speed up your PC's startup… There are great tips, tricks and more in every issue of your Computeractive subscription. Order today and never miss an issue!
Who Reads Computeractive Magazine?
Aimed at people who want to know to work their PC and get the best from it, the Computer Active Magazine audience is 79% male, primarily aged between 35 and 55. With a 21% female audience, this is the largest reader base for any UK technology magazine. Computeractive readers are passionate about technology.
Official Website