PC Pro Magazine Subscription
Subscribe now and save up to 33%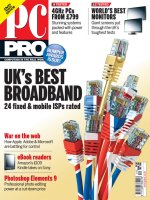 From £31.99 to £31.99
From 1 store
Compare
Issues
Save
Price
Subscribe
12
33%
£31.99
Subscribe Now
Note that this is a digital magazine subscription.
Join our newsletter for exclusive deals, voucher codes & more!
PC Pro Magazine
Every month, PC Pro Magazine delivers more pages of news, reviews and advice than any other PC magazine. Whether it's sneak peaks of new products, in-depth features or the big stories from the leading industry names, PC Pro has it covered.
Written by award-winning journalists, PC Pro Magazine provides authoritative news, reviews and real world advice. It takes a vigorous approach to product testing and remains the only magazine in the UK to scientifically test the noise levels of PCs. If you're serious about technology and getting the best from it, order your PC Pro Subscription today.
A subscription will save you a huge amount off the regular cover price and will keep you constantly updated with the latest the PC industry has to offer. Subscribe now!
In the Latest Issue of PC Pro
UK's best broadband providers – PC Pro Magazine rate 24 fixed and mobile ISPs… War on the web – how Apple, Adobe and Microsoft are battling for control… eBook readers – Sony takes on Amazon's Kindle… Photoshop Elements 9 – professional photo editing power at a cut-down price… How to build a browser extension – it's easier than you might think… The world's best monitors – giant screens are put through the UK's toughest tests… 4GHz PCs from just £799… PC Pro shows you the easy way to rip a large CD collection to your PC. Plus there are much more reviews, news and more. Order your PC Pro Subscription today and never miss an issue!
Who Reads PC Pro Magazine?
PC Pro readers are experienced, educated PC users and early technology adopters. They are PC enthusiasts and IT decision makers. 96% are male and the average reader's age is 38.
Official Website