Kerrang! Magazine Subscription
Subscribe now and save up to 24%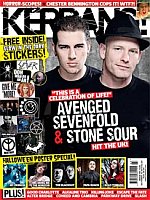 From £24.95 to £97.00
From 1 store
Kerrang! Magazine
The world's biggest selling rock music magazine, Kerrang! Magazine encourages you to plug in and turn it up to 11. Kerrang! covers all genres of rock and metal music, from Foo Fighters and Fall Out Boy to Muse, Metallic and Marilyn Manson. There is something for everyone with classic acts such as AC/DC and Iron Maiden and new young bands likes Bring Me To The Horizon, Enter Shikari, Pulled Apart By Horses and AxeWound.
Order your Kerrang subscription today and you'll have weekly access to the latest music news, live gig reviews, in-depth articles on the best new and established bands, plus album and single reviews, band interviews, the latest tour dates, great free posters, CDs and competitions.
For huge savings on the regular cover price and free delivery to your door before everyone else, get your Kerrang! Magazine subscription now! Plus, you'll never miss an issue again.
In Recent Issues of Kerrang! Magazine
Parkway Drive – the band you need to hear right now… Stone Sour and Avenged Sevenfold – inside the tour of the year… Linkin Park – Chester defeats his demons… My Chemical Romance – access all areas live report… Bring Me The Horizon face the Kerrang! Magazine quiz… Green Day poster special… Good Charlotte – the Madden twins battle back from the edge… Lostprophets go back to university… Muse – the highs and lows of their biggest year ever… Weezer – rock's greatest misfits are back… Iron Maiden – the beast slays South America… Plus stay up to date with all the latest news, tour dates, reviews and more every week with your Kerrang subscription. Order yours today!
Who Reads Kerrang Magazine?
Kerrang is aimed at a young audience of individually minded rock and metal fans who want to keep up to date with the latest news. As a weekly magazine, Kerrang! is often first to break the latest music news stories and tour date announcements.
Official Website