Mollie Makes Magazine Subscription
Subscribe now and save up to 42%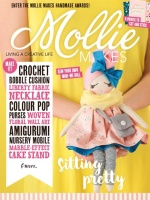 From £24.95 to £65.50
From 3 stores
Mollie Makes Magazine
A crafty lifestyle magazine for those who live creatively, Mollie Makes brings you the best handmade craft projects from around the world. If you love, sewing, knitting, crochet, quilting and other crafts, this is the magazine for you. With something new in every issue, you'll learn new techniques all the time, find inspiration for your own projects and enjoy hours of fun following the latest crafting trends.
Mollie Makes Magazine gives up and coming designers their first platform, discusses hot design topics and provides a wealth of easy to follow insider tips, inspiring you to live your best, artful life. Get your Mollie Makes subscription today and start feeding your inspiration.
In Recent Issues of Mollie Makes
Twenty fresh projects including: Tropical table runner; Woven drinks tray; Crochet pennant; Screenprinting for beginners; Customised family dolls; Artisan wash bag… Free felt flower wreath kits… Easy-sew friendship dolls to customise with mix & match outfits… Update your sneakers… Boho crochet summer top… Colour trend plant pots… Patchwork throw… Woven garden chair… Behind the scenes with Tatty Devine… Amigurimi doughnuts… Quick sew sun dress… 70s style bead necklace… Chunky knit beanbag… Lace detail sweater… Mini clay cacti… Order your Mollie Makes subscription today for more wonderful craft projects like these month.
Who Reads Mollie Makes Magazine?
A younger audience than most traditional craft magazines, with over 40,000 readers who love getting inspiration and step-by-step guides for new handmade projects.