Rock Sound Magazine Subscription
Subscribe now and save up to 38%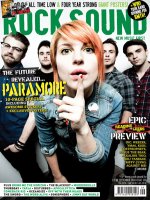 From £19.99 to £39.99
From 2 stores
Rock Sound Magazine
Priding itself on being 100% independent, Rock Sound Magazine aims to bring you the best new music first. Rock Sound is an alternative music magazine, focussing on the best rock and metal music around.
Order your Rock Sound subscription to keep up to date with the latest and greatest bands in alternative music. Rock Sound highlights the underground bands you should be listening to as well as featuring the big names you already know, with everyone from Bring Me The Horizon, Devil Sold His Soul and Pulled Apart By Horses to Paramore, My Chemical Romance and Deftones.
Every month, Rock Sound Magazine features interviews, articles, news and reviews, plus details of every gig coming up. Order your subscription now and you'll never miss a thing. Plus, you'll save on the cover price and get free delivery to your door!
In Recent Issues of Rock Sound Magazine
Bring Me The Horizon – the past, present and future – a 10 page Rock Sound Magazine special… Architects – access all areas on the tour of the year… 30 Seconds To Mars – Jared's last words… Cancer Bats face your questions… A Day To Remember – the sound of now!… Good Charlotte – forget everything you know… Parkway Drive – gang fights and surfing… Weezer sing the blues… Dangerous days with My Chemical Romance… Blink 182 reveal all to Rock Sound… Jimmy Eat World Reinvented… Paramore – the future revealed in a great Rock Sound Magazine 10 page special. Plus, more great articles on the best bands in every issue of your Rock Sound subscription. Get yours today!
Who Reads Rock Sound Magazine?
Rock Sound is the magazine for anyone interested in rock, metal and alternative music. The magazine showcases underground bands as well as more popular acts. The audience is young, savvy and made up of die-hard rock music fans.