Top Sante Magazine Subscription
Subscribe now and save up to 10%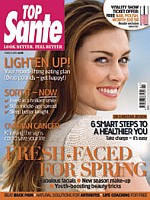 From £43.29 to £86.58
From 2 stores
Top Sante Magazine
Top Sante Magazine is the monthly glossy for the body and health conscious woman. It's the leading healthy lifestyle magazine for grown-up women and contains the best expert advice on health, beauty, nutrition and overall wellbeing. Get your Top Sante Magazine Subscription today and you'll be looking healthy and feeling fantastic in no time.
In Recent Issues of Top Sante
The new beauty miracles – find the key to radiant skin… The John Frieda colour masterclass – get glossy hair now, with new shades, sexy styles and younger looks… 10 must have products leading make-up artists love… Dr Christian Jessen's 6 step plan to a healthier you – the top TV doctor reveals how to boost your mind, body and wellbeing… Gino D'Acampo's Italian diet – these pasta, meat and fish dishes are not only delicious, but will help you lose weight too… Fresh-faced for spring – discover how the latest spring make-up can help you look years younger. Order your Top Sante subscription today for great articles like this and much more every month!
Who Reads Top Sante Magazine?
Top Sante is aimed at body and health conscious women in their 30s and 40s. Readers may also be interested in Good Housekeeping and Prima Magazine subscriptions.
Official Website