Yours Magazine Subscription
Subscribe now and save up to 38%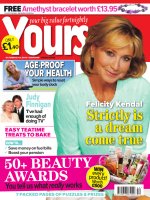 From £2.25 to £29.60
From 3 stores
Yours Magazine
Targeting women over 50, Yours Magazine covers many of the interests and issues of women at this age – including health, fashion and beauty – and is published fortnightly. It is packed with fascinating stories, news, great recipes, celebrity interviews, puzzles, competitions and much more. Yours Magazine is filled with articles that will appeal to the older generation, and reveals advice, tips and solutions to pressing issues in addition to lighthearted stories and real-life experiences and memories.
Order a Yours Magazine Subscription now and you'll never miss an issue again. Don't worry about forgetting when the next issue is out – each copy of Yours Magazine will be delivered direct to your door for free! Plus you'll save a huge amount off the regular magazine cover price. Subscribe to Yours Magazine today!
In Recent Issues of Yours Magazine
Felicity Kendal reveals how Strictly is a dream come true… Age-proof your health – simple ways to reset your body clock… Judy Finnigan tells Yours Magazine how she has had enough of doing TV… Easy teatime treats you can bake… How to save money on fuel bills and boost your pension… Fiona Phillips – caring for Dad has changed my life… Paul O'Grady reveals why he's bringing Lily Savage back… Three simple steps to younger, fuller hair… Winter coats to suit your shape… The good glasses guide… Cliff Richard shares his favourite photos. Plus in every Yours Magazine Subscription issue there are puzzles, competitions, brainteasers and great discounts for you to enjoy. Subscribe to Yours today!
Who Reads Yours Magazine?
Yours Magazine is aimed at women over 50, though the average reader is in her mid sixties. Readers may be retired or working part time, and enjoy spending time with family and friends.
Official Website