GamesMaster Magazine Subscription
Subscribe now and save up to 18%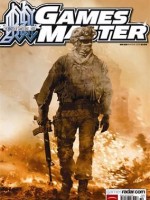 From £15.00 to £106.00
From 3 stores
GamesMaster Magazine
GamesMaster is the UK's longest running gaming mag and is the only magazine offering full coverage of the best games on every machine. Of all the gaming magazines available, it is the most enthusiastic and unbiased and is written entirely for those who love games, by a team who love games just as much as you do.
Every month GamesMaster Magazine brings the biggest scoops across all formats (including Xbox 360, PS3, Wii, PSP, DS and PC) and is packed with cheats and tips for those tricky levels.
Games Master Magazine will keep you up to date with everything that's going on in the world of gaming, including previews and reviews of new games, and a regular free cheat book. Each tips book contains a huge 4000 cheats and tips helping you to beat even the most difficult games.
Every game, every format, every month. Don't miss out – subscribe today and save up to 40% off the cover price!
In Recent Issues of GamesMaster Magazine
Bioshock Infinite – why the most wanted game on the planet is completely out of this world… World exclusive – Batman Arkham City – Gamesmaster magazine get their hands on The Penguin in the world's first play… The hype-free verdict on Dead Island… Halo 4 – the ultimate 360 game?… Driver San Francisco – the original wheelman returns… Fifa 12 – the best Fifa ever?… Killzone 3 – get the unbiased verdict on PS3's answer to Halo… Eye-popping 3DS sneak preview including Resident Evil Revelations. For more awesome game previews, reviews and features every month, order your GamesMaster subscription today!