Rhythm Magazine Subscription
Subscribe now and save up to 55%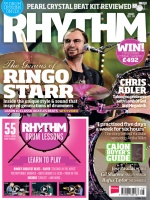 From £15.00 to £62.00
From 3 stores
Rhythm Magazine
The leading UK publication for drum and percussion enthusiasts, Rhythm Magazine is packed with exclusive interviews from the world's best drummers, amazing features, tutorials, reviews and much more. Every aspect of drumming is covered, across a range of styles and music genres. Rhythm Magazine aims to improve your playing technique with detailed lessons and advice, helping you to get the most from your kit, no matter how experienced you are.
With every Rhythm Magazine subscription you will also receive the monthly Play Drums CD which includes exclusive video tutorials, play-along tracks, demos and other tools to help you improve. Rhythm also features the latest gear reviews, gig guides, gossip and news from the music industry.
Order you Rhythm subscription now to become part of the UK's largest drum community and benefit from massive savings on the cover price and free delivery to your door. It really is the drummers bible!
Recent Issues of Rhythm
In recent copies, Rhythm magazine has featured articles such as… The 50 greatest drummers of all time, as voted by readers of Rhythm Magazine… The many faces of Tre Cool – an exclusive interview with Green Day's drummer… Dinosaur Jr's drummer picks his favourite monster tunes… Mike D of the Beastie Boys talks about the early days recording drums in tents… The Dave Matthews Band's Carter Beauford discuss their rebirth… Lamb of God sticksmith Chris Adler gives a tour of his Mapex walnut kit… Improve your technique with Jojo Mayer, the world's number 1 drum tutor… All the latest kit tested, the Rhythm buyers guide and much more every month. Get your Rhythm magazine subscription now!