Cross Stitcher Magazine Subscription
Subscribe now and save up to 93%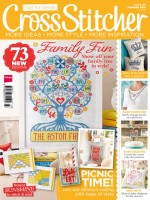 From £1.00 to £48.49
From 2 stores
Cross Stitcher Magazine
CrossStitcher is Britain's top selling cross stitch magazine and has something for everyone interested in crafts. Every issue is packed with exciting new cross stitch ideas and inspirational designs – from modern to traditional – to help you get the most out of your favourite hobby.
Subscribe today and in no time you will be creating beautiful hand-stitched accessories for your home or as gifts for family and friends. Cross Stitcher Magazine will teach you how to make quick gifts and cards in just a few hours and will challenge and develop your cross stitch skills. Order a Cross Stitcher Magazine Subscription today and every month you'll have step by step guides to achieve perfect cross stitch designs every time.
There are also heart warming stories to encourage you and in every issue of Cross Stitcher Magazine there is a superb free gift that will really inspire you to start stitching.
In Recent Issues of Cross Stitcher Magazine
Free cover gifts have included a giant hug chart to add some contemporary style to the home, that even a beginner could complete… CrossStitcher Features have included a guide to help you design the perfect gift for any occasion… How to let culture influence your designs with abstract patterns and bold colours… Projects to inspire kids and beginners to start cross stitching… Plus, more feel good designs to suit every taste.
Buy your Cross Stitcher Subscription now to take advantage of huge savings off the normal cover price and free delivery direct to your door each month.