Jamie Magazine Subscription
Subscribe now and save up to 37%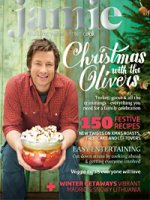 From £14.00 to £25.99
From 2 stores
Jamie Magazine
The latest cookery magazine to hit the shelves, Jamie Magazine is a bi-monthly title that needs no introduction. This is a beautiful magazine, printed on paper from sustainable sources, and features the talent of Jamie Oliver and some of the best food writers around.
The thought and effort that has gone into the magazine is evident. Jamie takes most of the photographs himself and is the first TV chef to have launched such a magazine. Jamie Magazine features over 100 of recipes in every issue, so there really is something for everyone. There are great hints and tips for saving time, hosting parties, and preparing sumptuous feasts.
The magazine also highlights some great food from around the world, showing how you can prepare some of these exotic dishes. Order your Jamie Magazine subscription and save on the regular cover price, plus get free delivery to your door.
In Recent Issues of Jamie Magazine
Christmas with the Olivers – turkey, goose and all the trimmings. Everything you need for a family celebration… 150 festive recipes – new twists on Christmas roasts, fruit cake and leftovers… Easy entertaining – cut down stress by cooking ahead and getting everyone involved… Jamie magazine shows you the veggie meals everyone will love… Winter getaways in vibrant Madrid and Snowy Lithuania… In from the cold – spicy Asian soups, cooking with cheese and romantic Valentine's puddings… Marrakech street food with Jamie Oliver… Food and song at WOMAD festival… Over 100 recipes! For great features like this and more, order your Jamie Magazine subscription today.
Who Reads Jamie Magazine?
Jamie Oliver's magazine is ideal for anyone who a) likes cooking or b) likes Jamie Oliver. If you like both this is the perfect magazine for you! It's great to give as a gift too.